County Commissioner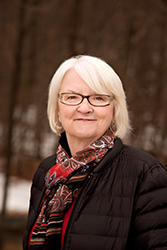 I was born in Susquehanna at the old Barnes Kasson Hospital I June of 1950, the fifth child of Myron and Mary DeWitt. It was the year my great Aunt Nellie retired from the Navy Nurse Corp and she accompanied my mom to the hospital.
I grew up on Franklin Ave. in Susquehanna with three brothers and four sisters.
My father tragically died when I was thirteen, a pivotal time in my life. As an adult I realize how important mental health support is for people.
My mother went to an LPN program in Binghamton so that she could support our family. This has made me realize how important education is to single mothers and for all.
When I graduated from Susquehanna High School I attended college in Binghamton, Broome Community (then called Broome Tech) and received my A.A. Degree. I finished my B.S. degree at SUNY at Plattsburgh. During my teaching career I received a Masters Equivalency Degree from the state of Pennsylvania. I then returned to my hometown and taught at Susquehanna Elementary for thirty-three years. Hopefully I started many children on the way to loving reading and a start to their school careers.
Along the way I married, divorced and remarried, Ron Rowe a Penelec lineman. We had two children, a son named Peter and a daughter Elizabeth our youngest. Sadly Ron developed cancer and died shortly after retiring.
Our children live in Susquehanna County, one working as a mechanic for a company in Kirkwood, N.Y. And my daughter doing home health care after training at Susquehanna Vo tech.
I became interested in local government when I was appointed to fill a supervisor's positioning Oakland Township, and have won re-election once. I believe that working at the county level could effect the future of the children and families in Susquehanna County and improve the job market, help bring broadband service and establish community centers to all areas of the country.
Dairy farmers have a long history in Susquehanna County including my own family. Sadly many of these operations are not making it. Isn't it time that our county gave some help to farmers and we explore with them New more profitable ventures , perhaps hemp growing and production.
Our opioid and other addictive substances have reached a crisis stage in our country and the present program of incarceration seems to be a revolving door. Shouldn't we explore and initiate drug court which other neighboring counties have found some success implementing. If we could save lives and help people turn their lives around and thus those of their families and communities this would be again.
Wouldn't it be a success story if young people could say
"I choose to stay or return to Susquehanna county as there are opportunities for my future, the county is growing with forward ideas and community spirit, our clean air and beautiful parks, recreation and water ways are the best and we care for each other no matter what any of us face in life".